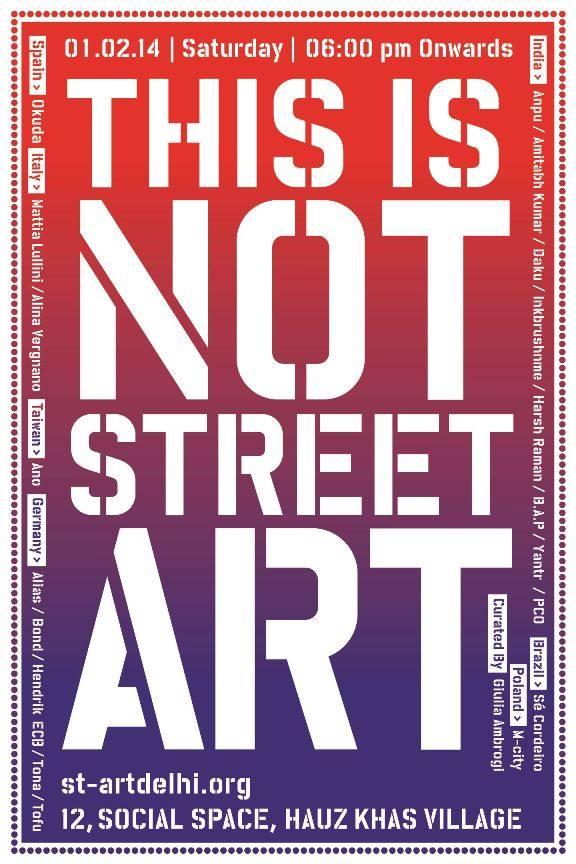 'This is not Street Art' was the first-ever exhibition organised by St+art India. While work advanced in Shahpur Jat during the 2014 St+art Delhi Festival, abandoned space in Hauz Khas Village simultaneously became a site for urban art interventions. The exhibition witnessed 22 artists creating site-specific works alongside showcasing aspects of their practice beyond their work in the public space.
Hauz Khas Village (HKV) is an urban village, in South Delhi. In 2014 it was primarily inhabited by locals and artist studios, courtesy of its low rents, and over the past decades, it went through rapid gentrification becoming one of the most popular hangout spots in South Delhi. Its prime location, along with the diverse range of people who visited made it an ideal location for our first ever exhibition. But HKV served as the perfect space to house the exhibition for more reasons than one.
With the aim of creating unique experiences in unconventional spaces, a large defunct space shut since the 90s was chosen as the venue to host the first street art exhibition of the country. The dilapidated space was located in the heart of HKV and its run-down, grungy interior provided the perfect setting for urban artists to showcase their works.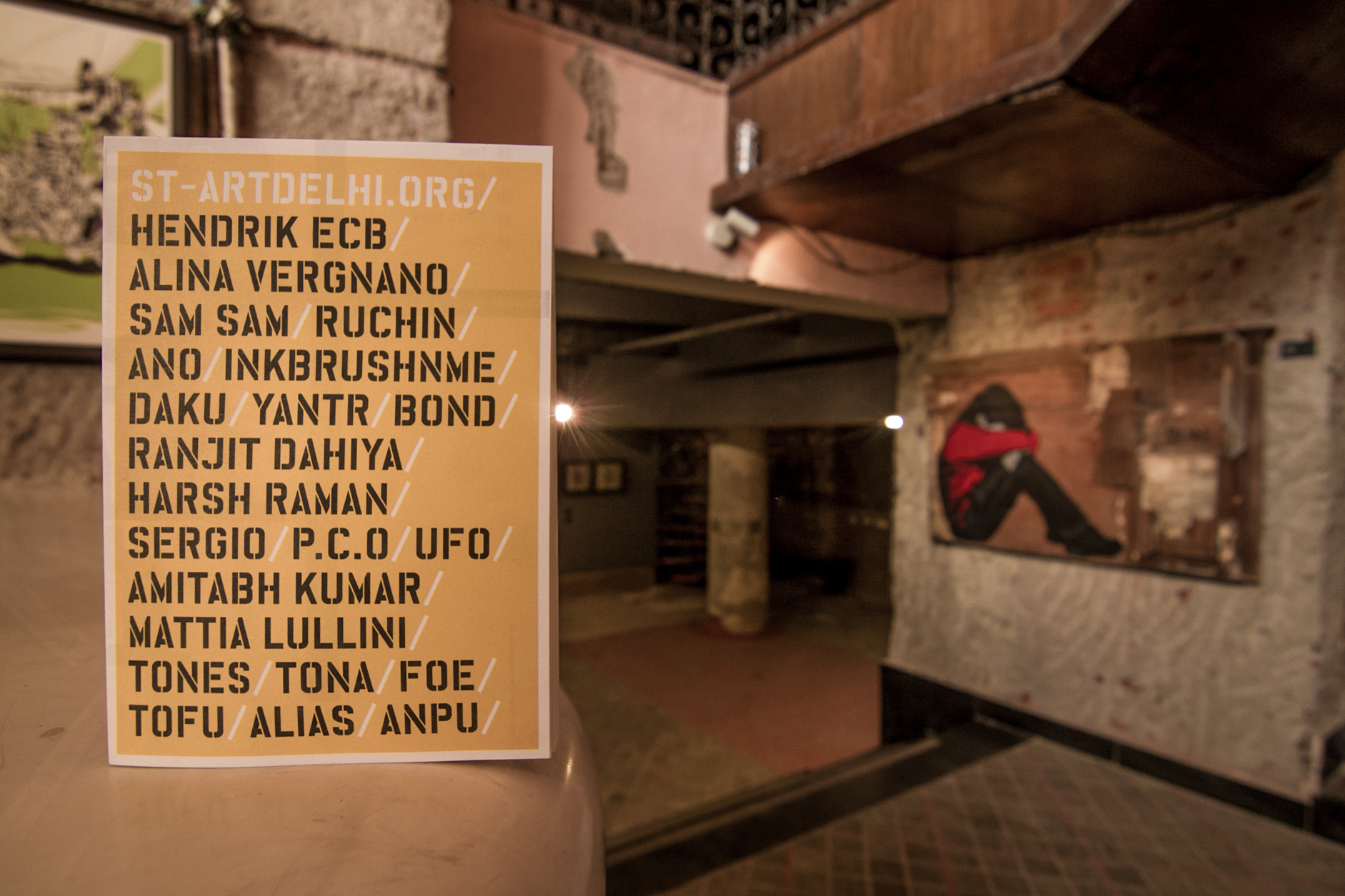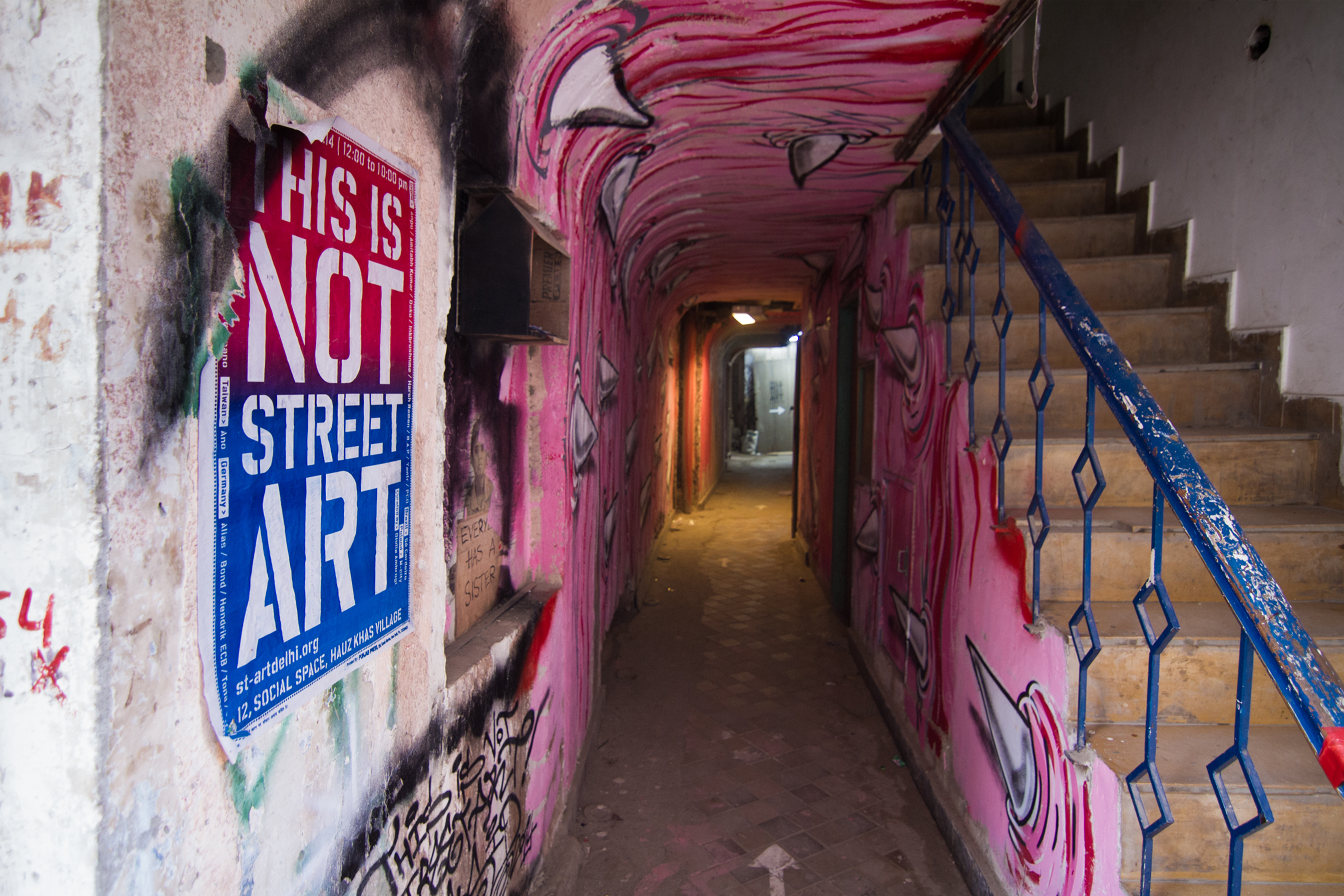 The space had a rustic interior which was mostly left as is and untouched since it complimented the works on display. In a sense, the exhibition was almost the antithesis of what a conventional gallery space is supposed to look like with the sight of bare walls in plain view. The juxtaposition of artworks and installations against this aesthetic, successfully created an informal and approachable environment to engage with art.
Common sight with north Indian weddings is the famous brass bands which walk along with the 'Baraat' (groom's procession) and are synonymous with celebration. On the opening night of the exhibition, a local brass band also added life to the festivities with their performance.
The exhibition ran for a month and saw a diverse range of people engage with the works. Everyone from locals of the village to tourists, both young and old, reaffirmed that there was a need for creating alternative spaces to experience the visual arts within the city. With the help of film screenings and open discussions on the artists' practises, the exhibition also ignited a discourse on the global phenomenon of street art, while introducing the city of New Delhi to some of its finer nuances.