The #WIPShow, or Work-in-progress was a walk-through experiential street art exhibition built using 100 containers and was hosted at ICD-TKD. The site of the exhibition was the Inland Container Depot, New Delhi - which spread across 55 acres is the largest dry port of India. Handling 2,000 containers and hosting 10,000 employees on a daily basis - it is one of the busiest and most intense areas of Delhi.
The #WIPShow acted as an open lab where 25 Indian and international artists created site-specific artworks on-site, and under the public's eye over two months. While on one side, artists could be observed painting outside and inside the containers, while on the other, there were performances, street battles, gigs, pop-up food stalls and workshops taking place, making the entire area a hotspot of cultural exchanges and activities.
Unlike static gallery exhibitions, #WIP was constantly being reinvented, staying true to the performative and ephemeral nature of street art. Through #WIP, St+art created an art hub in an unexpected space to offer diverse sectors of society newer experiences, especially to people who are usually excluded from the reach of art.

The area chosen was a parking lot of the ICD which was also located near one of the biggest landfills of the city, which towered over the venue, creating a contrasting juxtaposition.
As you crossed the landfill, you began to see artworks emerge in the distance. These included a massive portrait by German artist Hendrik ECB and a mural by Indian artist Ullas.
The 10,000 workers that ICD hosts on a daily basis include truckers, lifters, crane operators, and waste collectors among others. As an ode to their name-less and face-less presence and contribution to the city, German artist Hendrik ECB painted a portrait of a worker of ICD on a 120 ft silo. ECB drew the piece titled "There is nowhere to go but everywhere" to give the area a human touch, which he thought was missing from the area.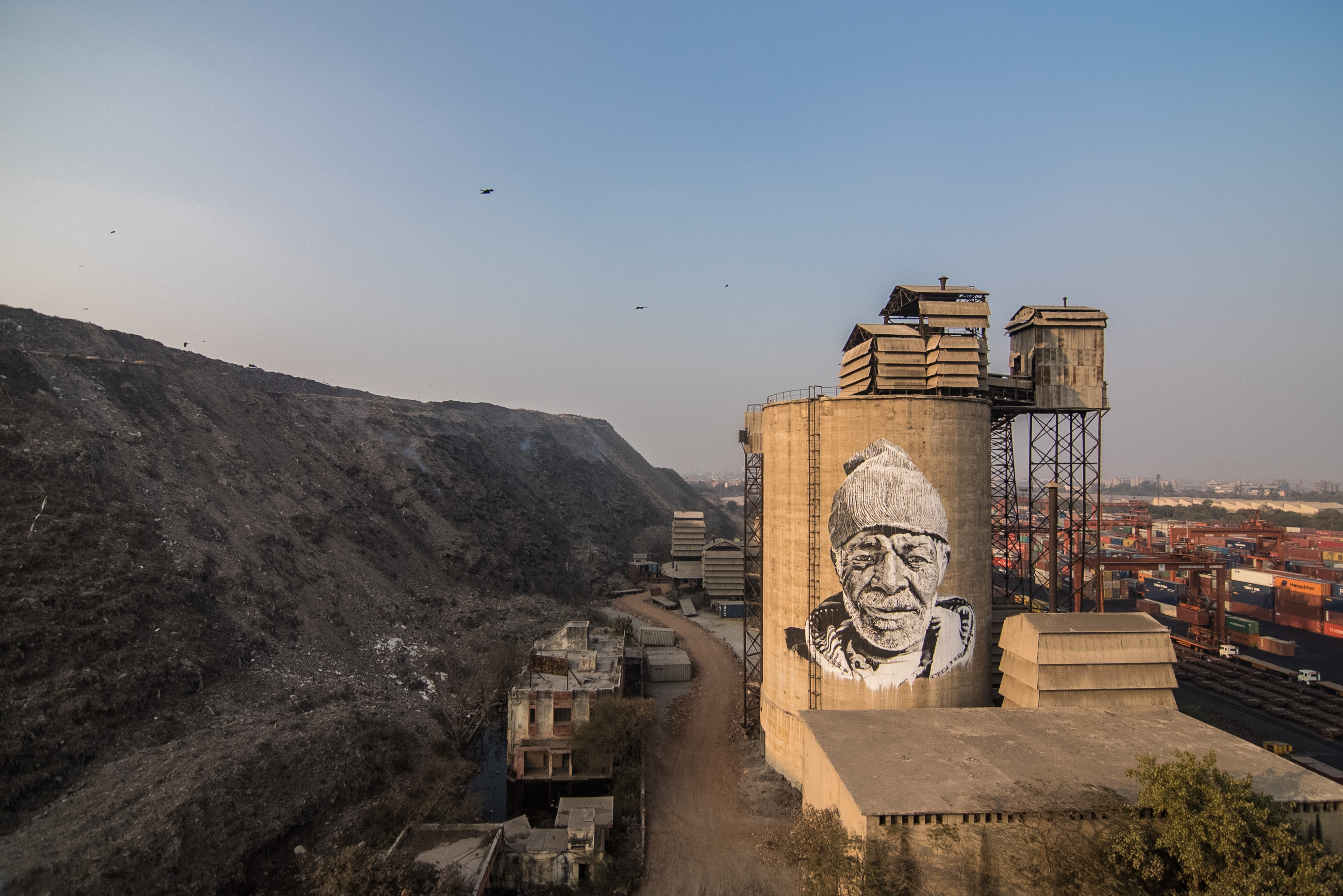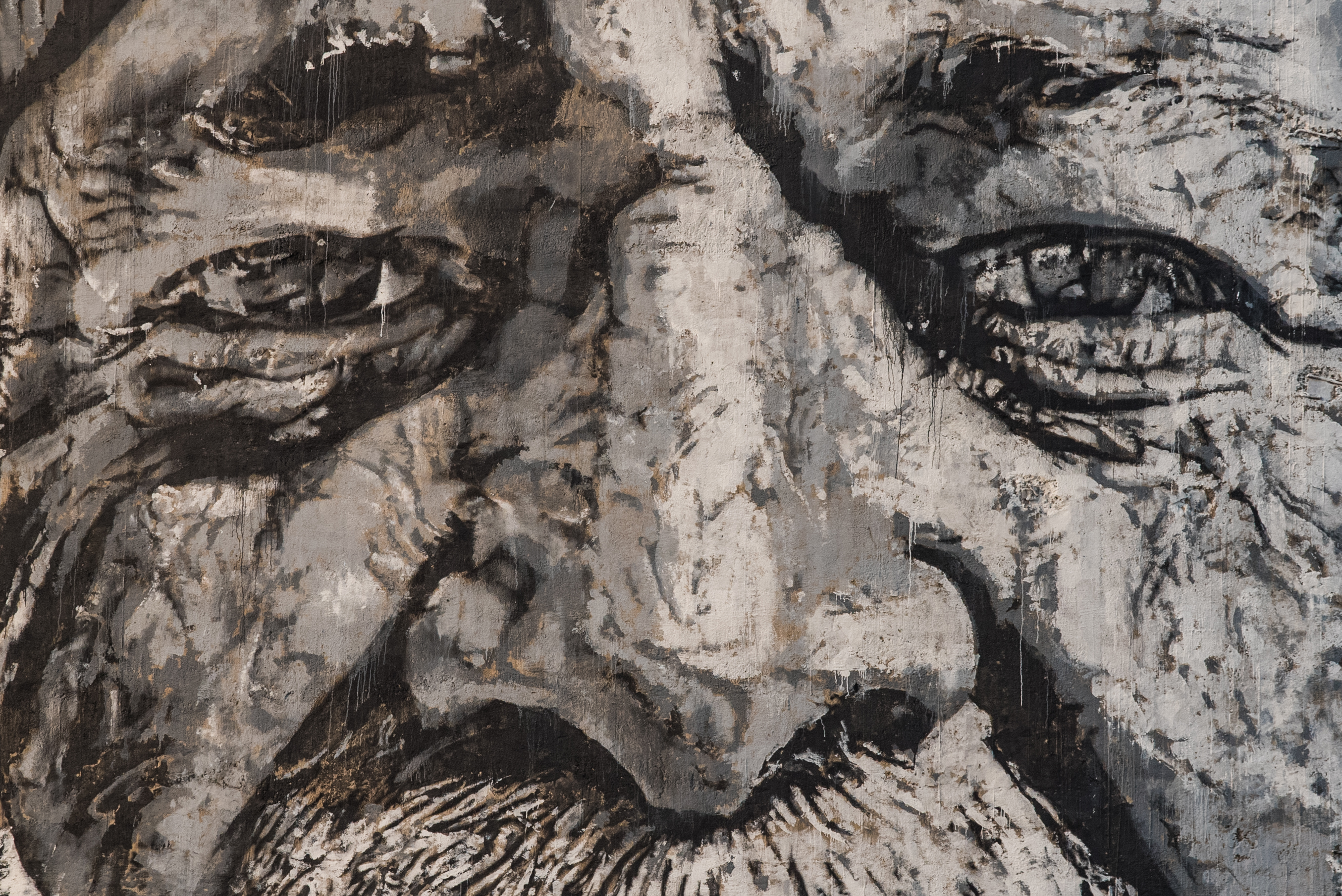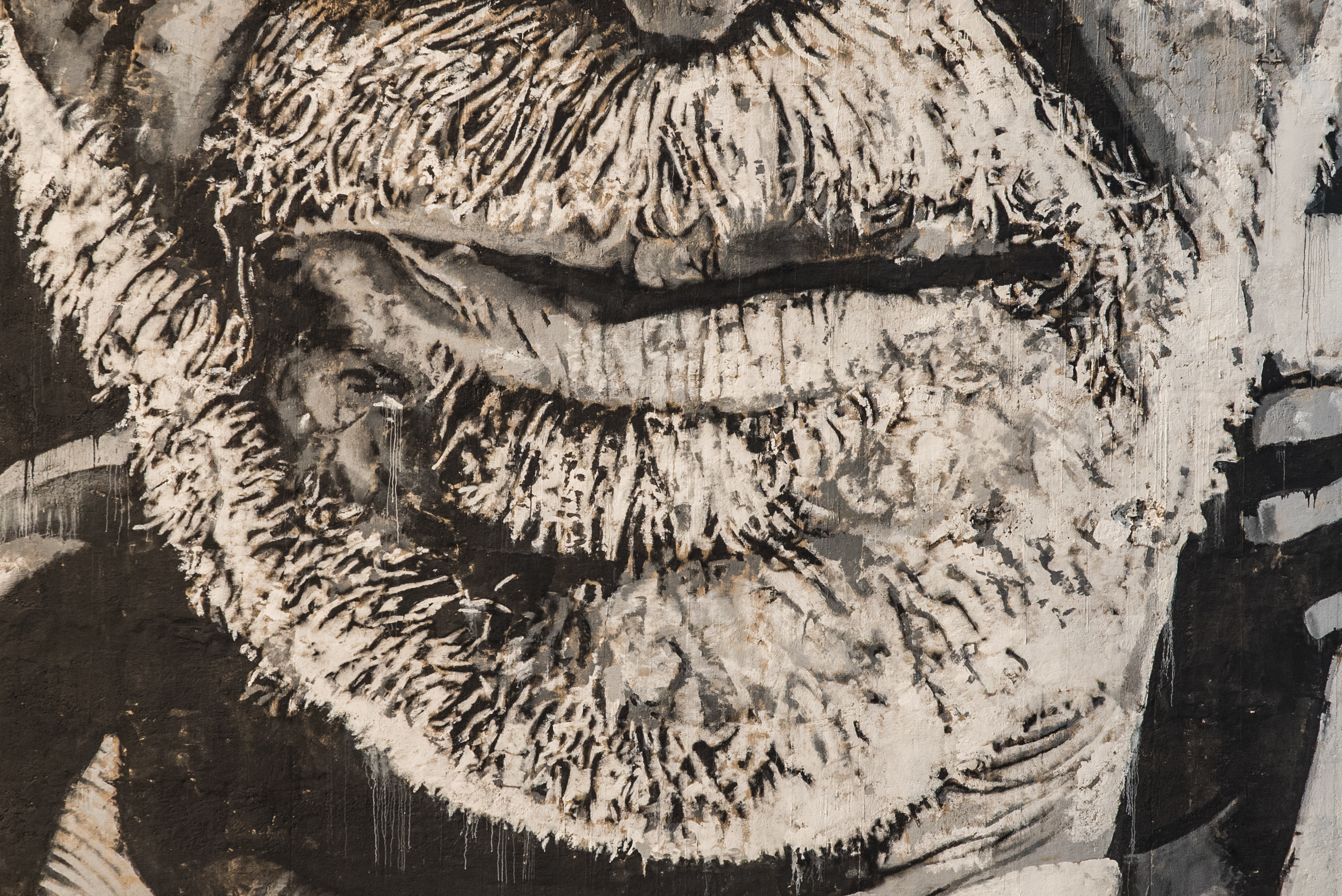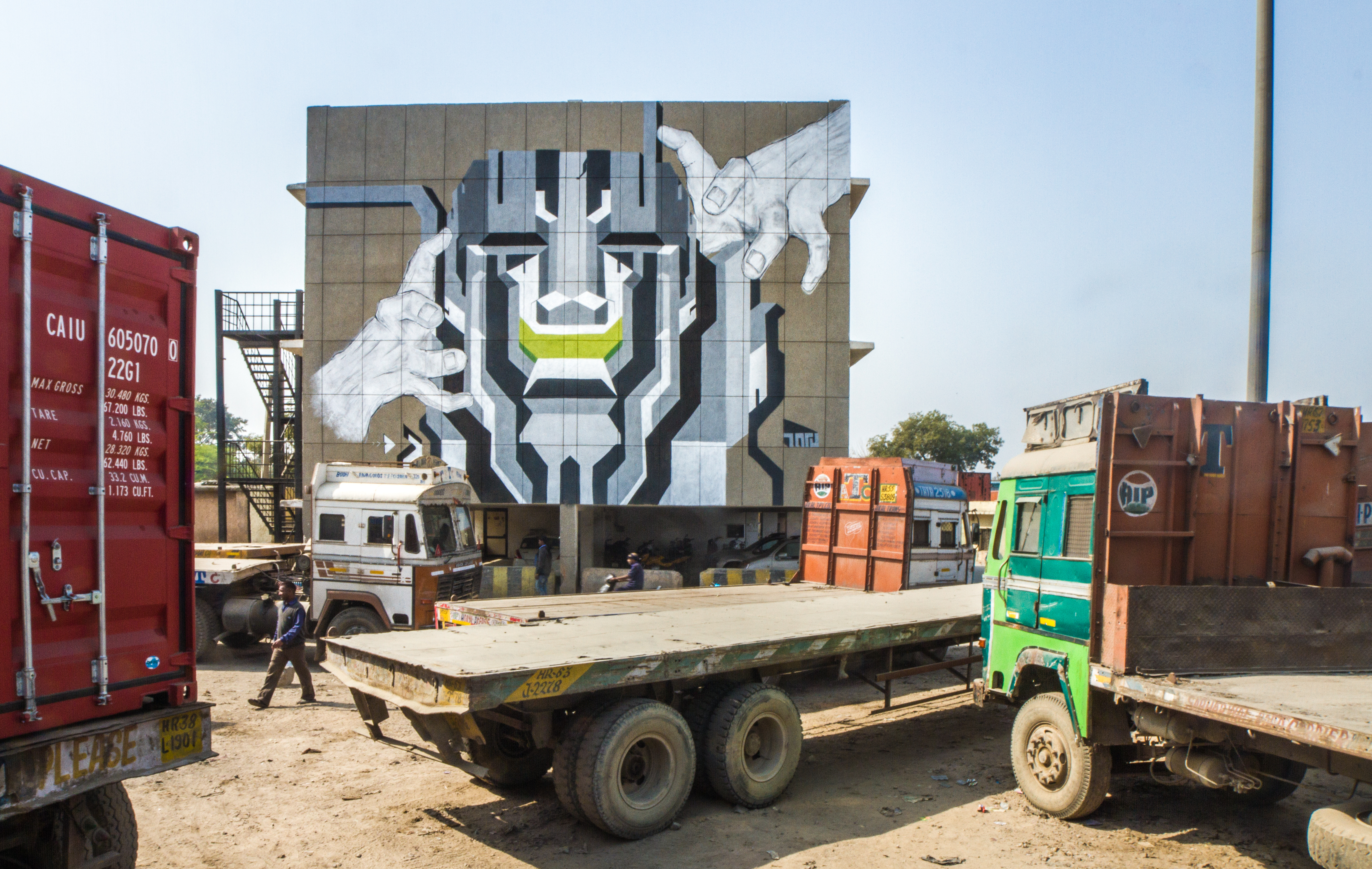 As you walked towards the exhibition, you were welcomed by Australian artist Reko Rennie's piece which explored his aboroginal heritage. His installation acted as a gateway into a fortress of containers.
Once inside, you were greeted with a massive Astronaut made by Swiss duo NeverCrew, along with works by Polish crew Dwa Zeta and Indian artists Inkbrushnme and Amitabh Kumar.
The city of New Delhi is always under construction, always transforming. 'Men at work' and 'Work in Progress' signs are a constant visual across the capital whilst the people who build our cities remain invisible, similar to the street artists who transform our public spaces. The exhibition aimed at capturing the energy of the changing cityscape and reconnecting art to the daily lives of people, while highlighting the nature of street art as a constant work in progress.
All visitors were given the neon jackets worn by construction workers of Delhi. This was an attempt to create a space that was welcoming for people across all backgrounds and where everyone was equal. Wearing the jackets, a truck driver could feel as comfortable visiting the site, as an art gallery owner.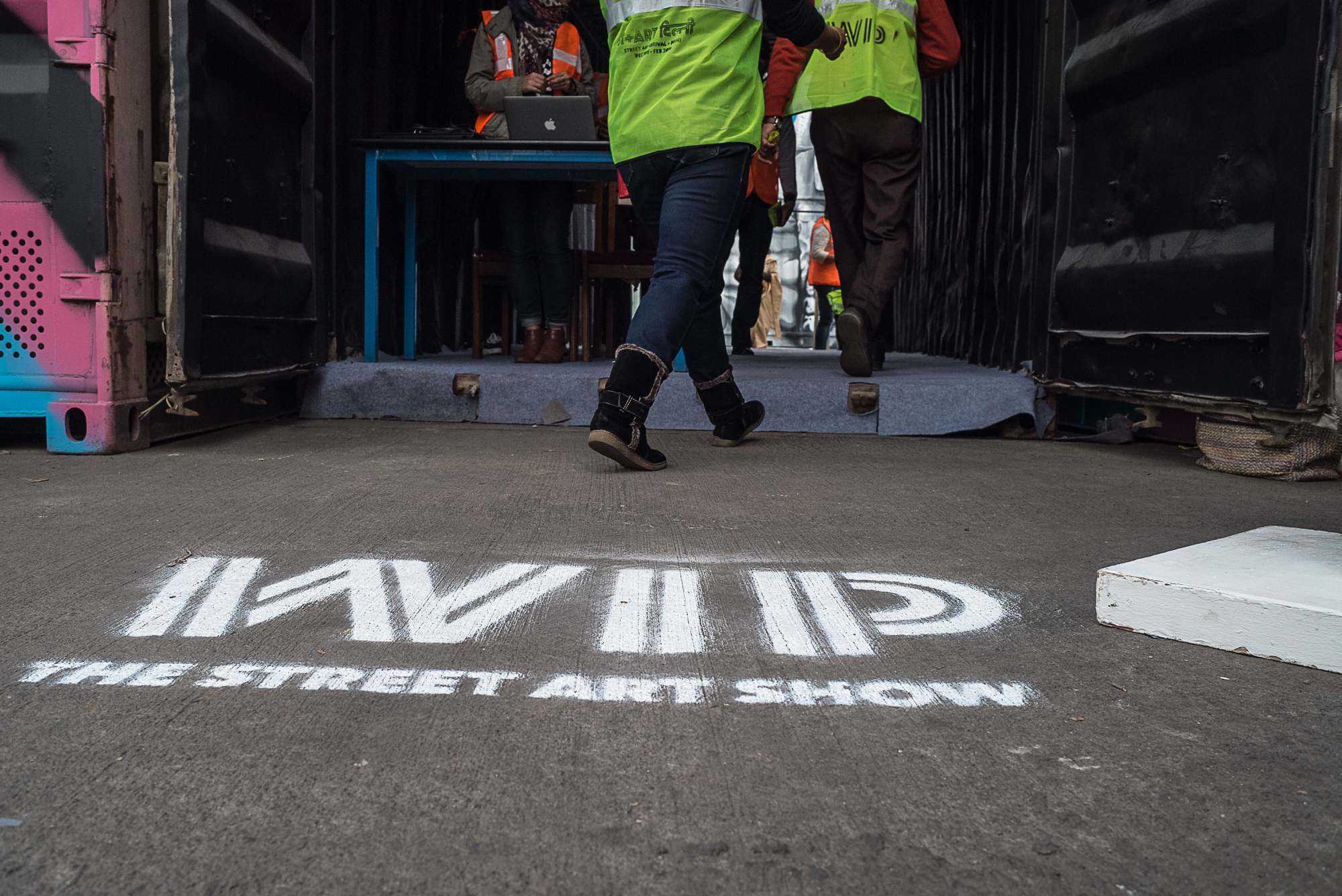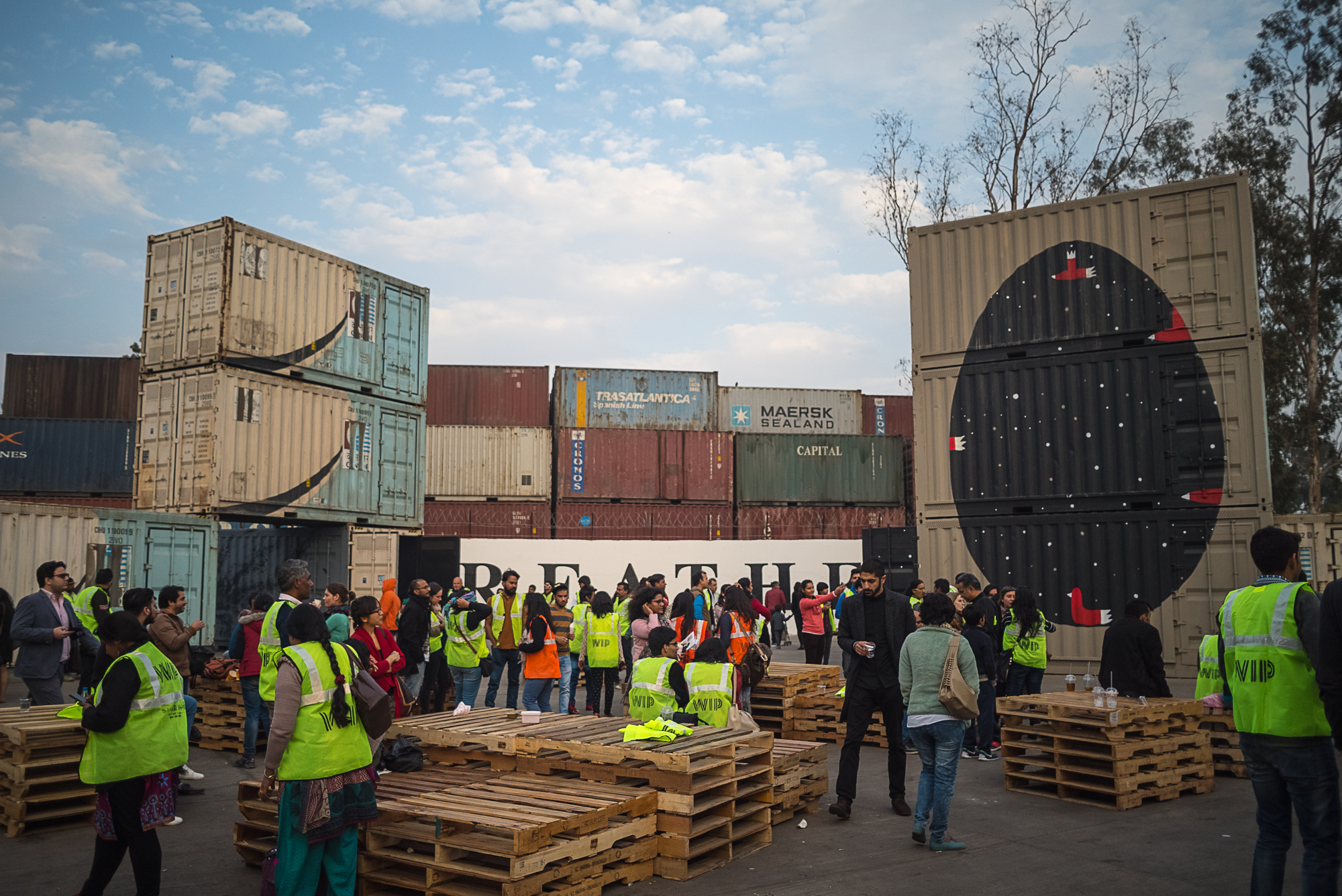 The exhibition design was conceptualised with the invaluable contribution of Studio Lotus and architect Pierre Guyot. The approach taken was one of connecting to the glorious history of Delhi and to one of its manifestations, right in the vicinity of ICD - the Tughlaqabad Fort. The containers in fact have been stacked to resemble a fort, where despite the mighty walls, there are constantly possibilities of seeing through. This approach was then strengthened inside where different formations of the containers were constantly allowing for discovery and multiple points of view, making the experience fluid and varied while guaranteeing an aura for each art installation.
This approach was also following the philosophy of street art where you find things when you least expect them, such as an inclusive art experience between a landfill and a container depot in a harsh industrial area of the Indian capital. Furthermore, the containers used for the exhibition were originally used for transporting bananas but now hosted art experiences inside and outside, in a transitional time before getting back to their normal usage.
Here, the containers which bring in all the goods of Delhi could be explored in their natural environments, but from a different perspective - that of canvasses and materials, part of an installation. The idea was to explore the materiality of objects and investigate an alternative usage of these extremely functional containers.
Upon venturing further inside the exhibition, visitors got a chance to engage with pieces by artists from various nationalities - from Indian artists Anpu Varkey and Daku and Mumbai-based artist Tyler to Mexcian artist Senkoe, American artist Gaia, Iranian artist Nafir, and Rome-based artist Agostino.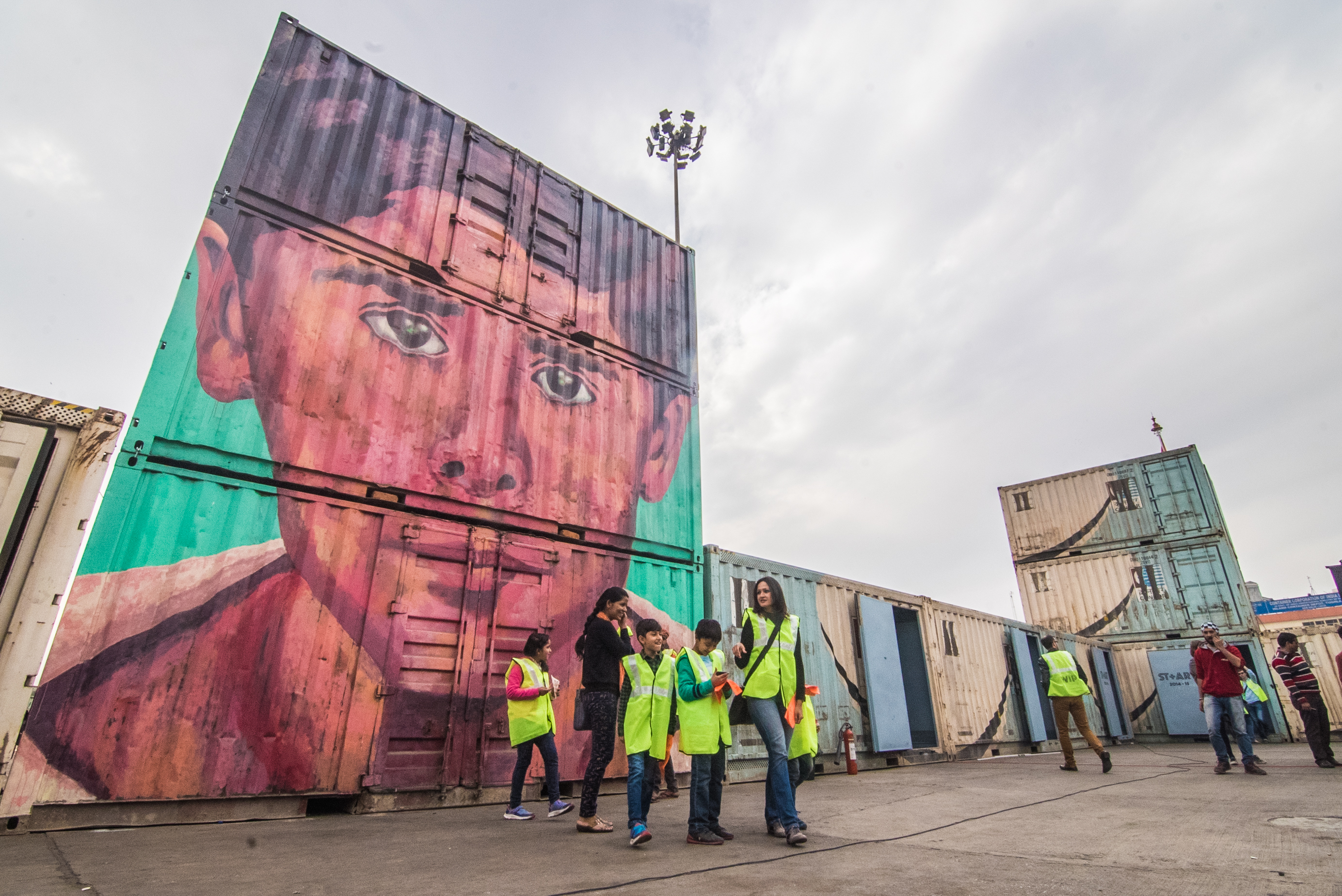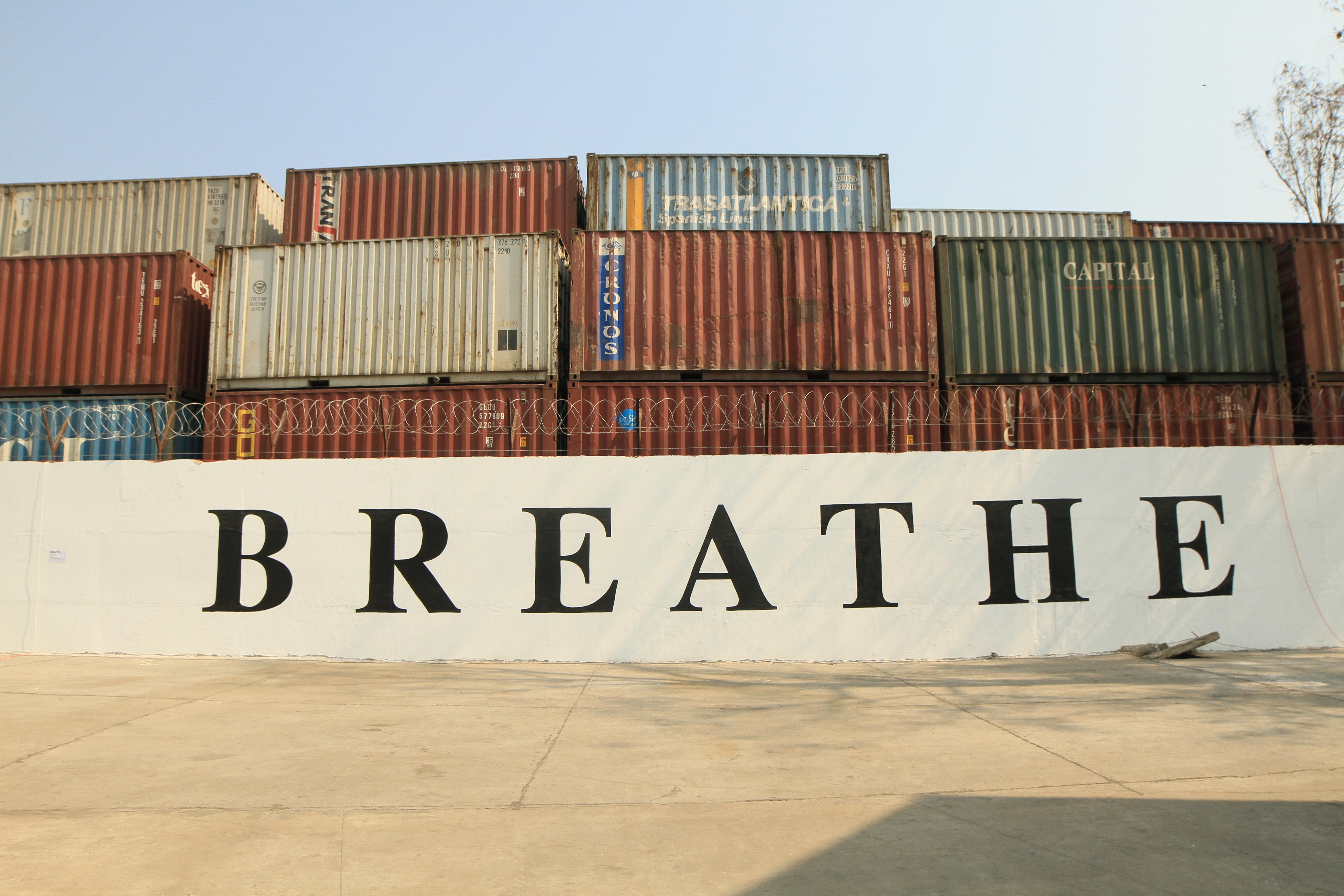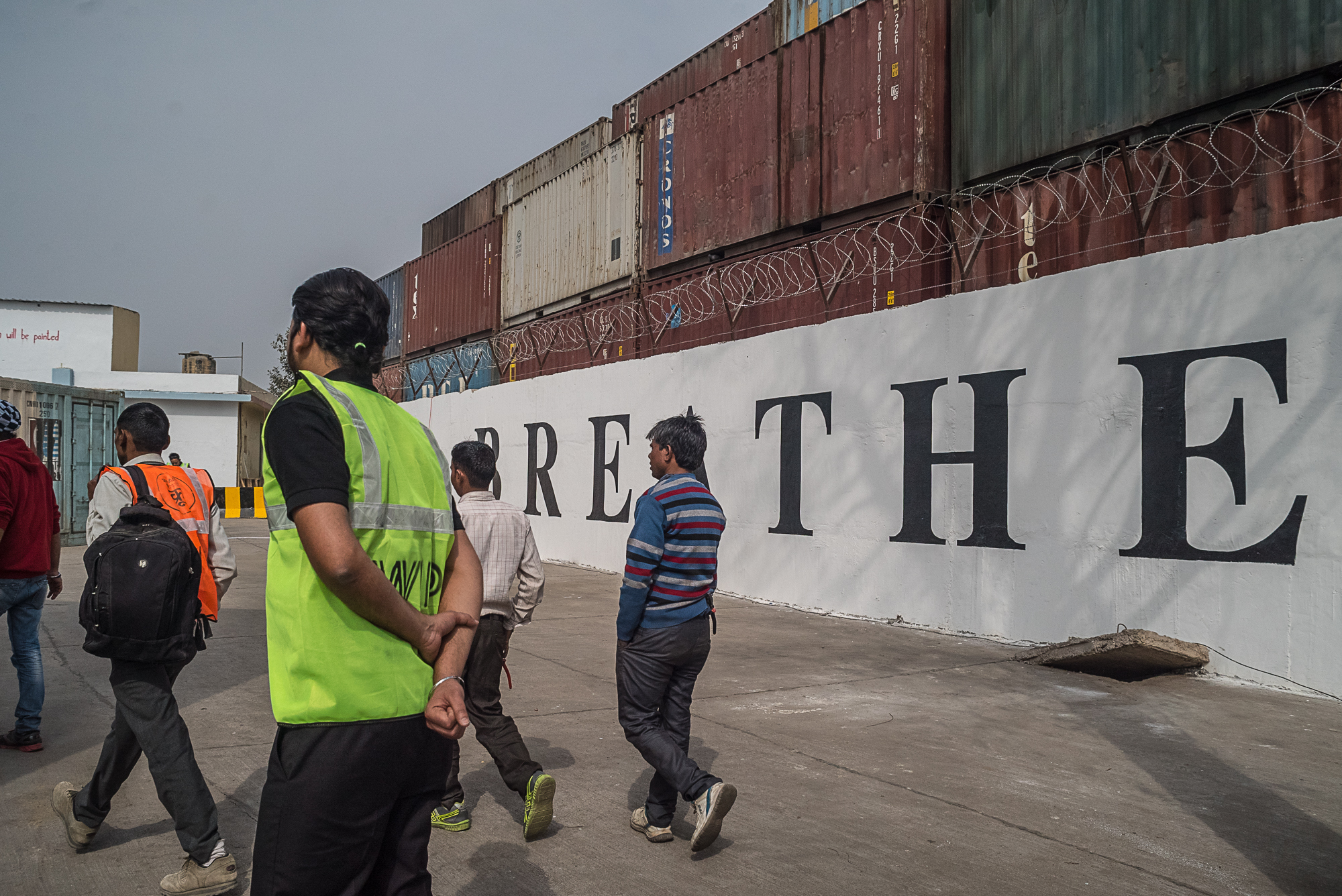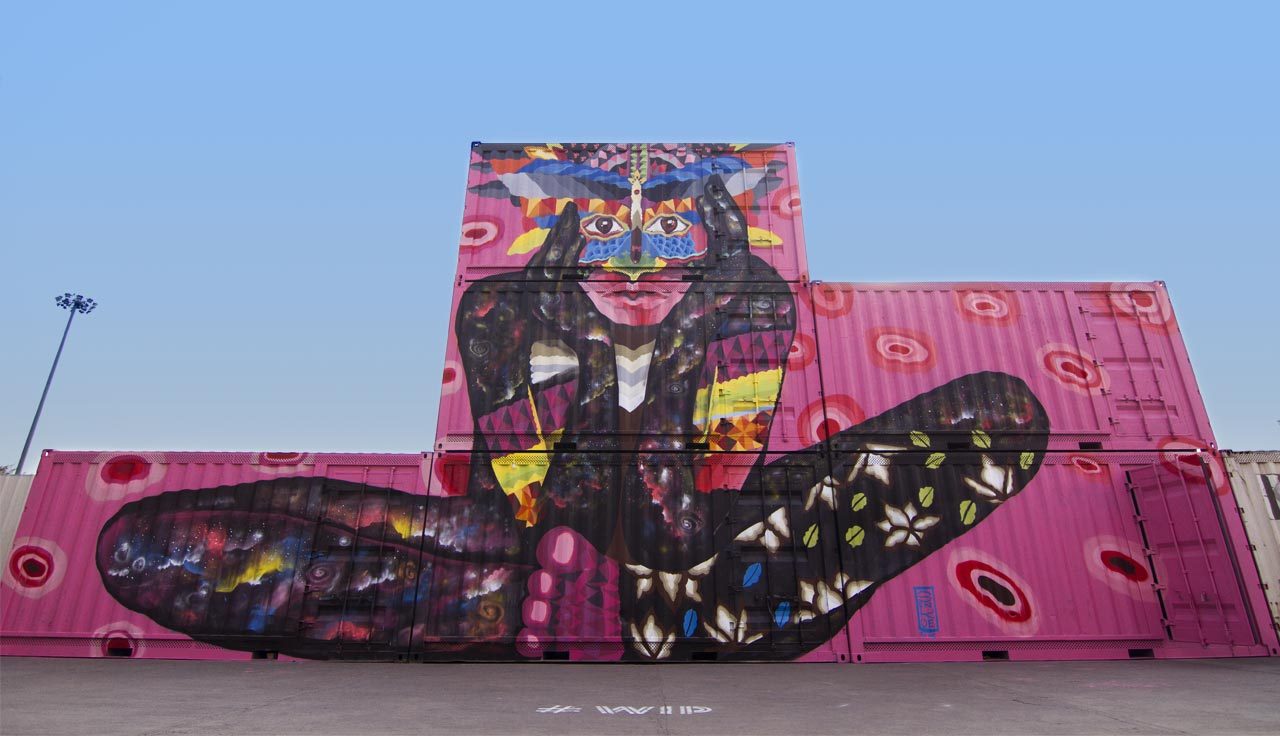 Capitalising on the functionality of the containers, two installations were also set up during the exhibition. While French artists Lek & Sowat created an installation as a reference to the functional aspect of the containers dealing with banana shipping, Indian artist Harsh Raman used the containers to install a temple of Street Art & Graffiti.
In addition to the line-up artworks, there were some improvised pieces as well. One such piece was the anamorphic text created by the Indian artist duo of Do & Khatra. It complemented the two works that could be seen directly behind it - Suiko's (Japan) black and white horizontal containers, and a dancer's graceful hand gesture by Chifumi (France).
The aim of #WIP was to become an open platform for various cultural activities. So every weekend creatives across mediums were invited to explore the space in new ways. While the artists were busy painting the containers, there were various gigs, tours and workshops happening simultaneously.