Located in and centered around the 144-year-old site of Mumbai's Sassoon Docks, St+art organised one of its more ambitious projects till date - the Sassoon Dock Art Project. With the dock as its main protagonist, 33 national and international artists have been invited to contribute with their works to an experiential exhibition that was open to the public for 35 days.
Constructed in 1875, Sassoon Docks is one of the oldest docks in Mumbai. One out of the handful remaining docks that are open to the public, Sassoon is also one of largest fish markets in the city. Despite its immense significance in the city's landscape, most Mumbaikers had never set foot inside the area. The exhibition sought to reintroduce it to its city in a novel manner. Nestled at the tip of Colaba, the dock was transformed into an contemporary art exhibition that aimed at mapping one of the fundamental facets of Mumbai and unlock the cultural and historical significance of this area.
The exhibition hosted artists to create installations, audio-visual experiences, murals, screenings, and curated tours that were site-specific. Inspiration was derived from local stories, cultures, and histories. Materials available in abundance at the site - fishnets, the smell and sight of fish, and colour amongst other things, were then used for the execution of artworks, most of which featured the dock prominently.
Before entering the main venue of the exhibition, visitors were greeted with the sight of more than 150 larger-than-life-size black and white portraits, pasted on the façade of the main building. The monochrome photo blowups of portraits featured the dock's resident Koli, Banjara, and Hindu Maratha fishing communities. The project was St+art's contribution to iconic French photographer and artist JR's global participatory 'Inside Out' project.
The global Inside Out project celebrates identity and amplifies untold stories with the means of large-scale paste-up of monochrome portraits. The project at Sassoon Docks employed the same means to bring to the forefront important stories of the original settlers of Mumbai - its fishermen communities. It strived to celebrate the lives, identities, and contributions of the diverse fishermen communities of Sassoon Docks.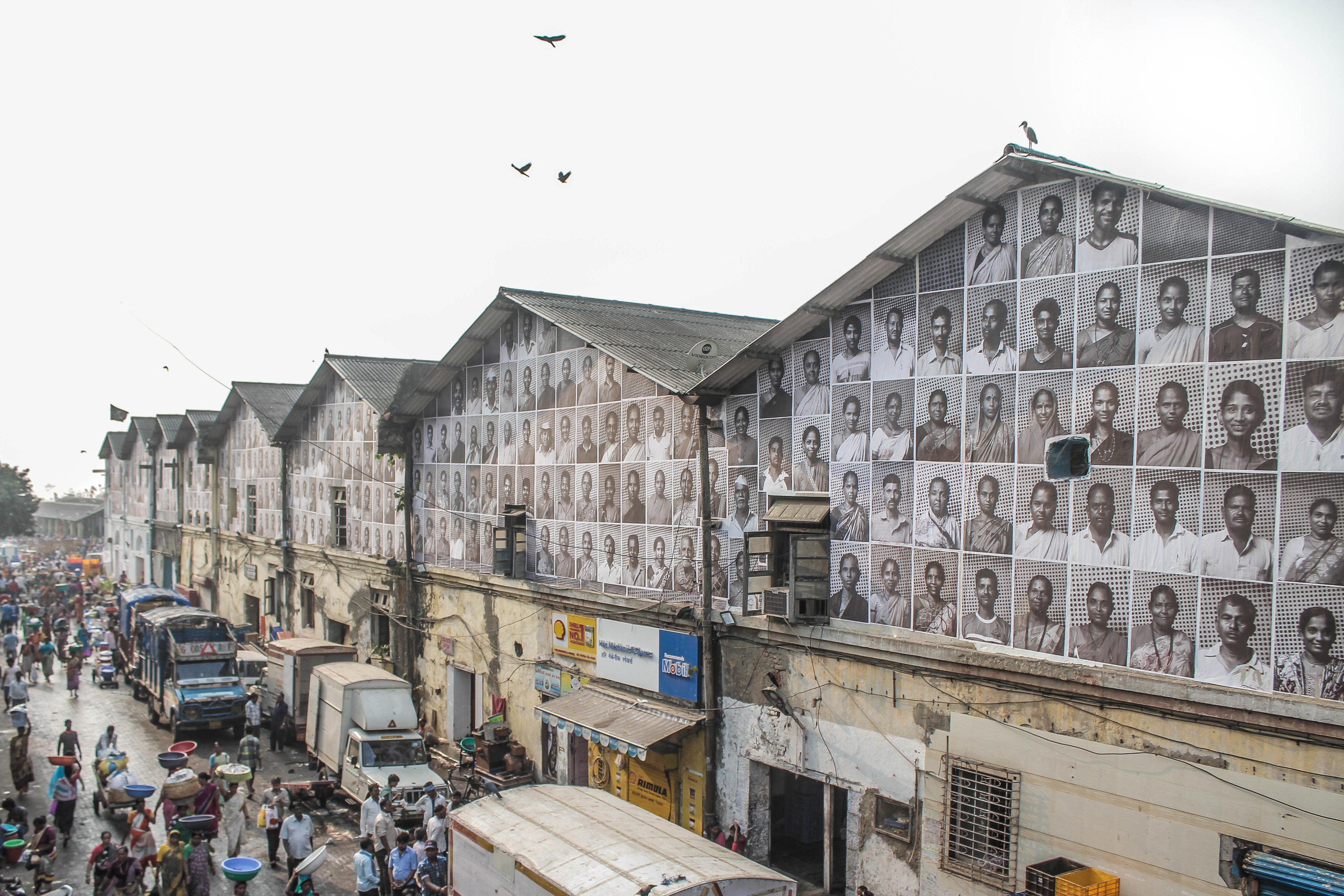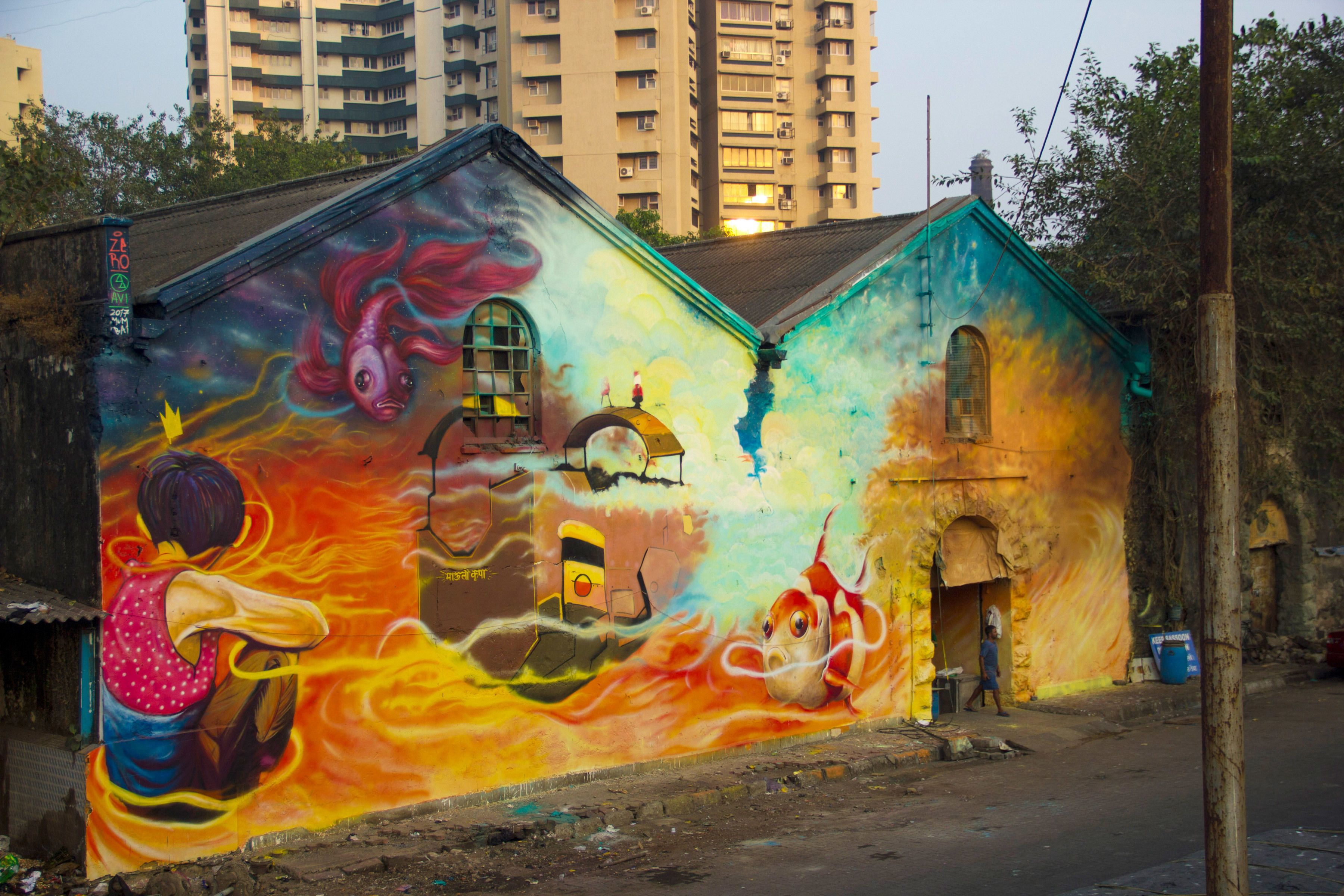 Upon entering the location, the visitor first came face-to-face with designer and visual artist Hanif Kureshi's 'The Idea of Smell' he created a walk-through of sensations that could only be thought of and not felt. Playing with the idea of smell and memory, the artist established a direct connection between those concepts while inviting the viewer to immerse themselves in a path of feelings through the idea of smell. What was in front of the viewer were hundreds of words floating in the room, almost freely but not completely. By bending perception and the idea of senses, the artist triggered a larger understanding of the intersection of language with thought, of how smell can only be first recounted with memory rather than a direct recollection of its sensory experience
For the installation, locally-sourced nylon fishnets were suspended from the ceiling and were then woven with words and phrases such as 'train', 'mom's cooking, 'blanket on a cold winter's night' and 'engine oil' among others.
https://www.youtube.com/watch?v=uH5zgcHgAR0
I like using locally sourced materials, that are mostly from construction sites and can be recycled through carpentry,
- Clemens Behr, artist
Crucial to the lifeline of the economy at Sassoon Docks in Mumbai's sea. The exhibition also hosted artworks that engaged with the burgeoning problem of plastic dumping in and around the sea.
https://www.youtube.com/watch?v=jovjFSGn3ZA
https://www.youtube.com/watch?v=7yv5AWpkVJU
https://www.youtube.com/watch?v=unbZvvvMxJw
More than 1500 trawlers work at the docks, bringing in around 20 tons of fish every day. Over 150,000 people depend on the docks for their daily livelihood. Australian artist Guido Van Helten spent three days taking portrait shots of the fisherfolk present at the dock.
https://www.youtube.com/watch?v=SH2fp568yco
https://www.youtube.com/watch?v=hcNXL2L-7r4
These boats help the fishermen with their day-to-day lives. We see a parallel connection between the boats and the Makara- the creature that helps Varuna navigate the ocean
- Sheryo, artist
I wanted to show the people of Mumbai that when they throw their garbage it does not disappear just because it is no longer in front of their eyes
- Sajid Wajid, artist
https://www.youtube.com/watch?v=nZGMqabvFSU
Numerous other artists used narratives and sights offered by the space to inspire their artworks. While artists Poornima and Sadhna were inspired by the plenitude of colour in the area for their piece, graphic designer Sameer Kulavoor used the site's characteristic smell to conceptualise his piece.
https://www.youtube.com/watch?v=oRIVqPHU8f0
When we were approached with the idea of bringing #KindComments to life we wanted to create a piece of art which would leave people feeling happy, with a message of kindness which they can pass on to others in their lives and online. In a world filled so much chaos, conflict and hatred, messages of peace, equality and positivity are extremely important. Through our mural, we hope that we can encourage passer-bys to stop and reflect on messages of peace and kindness which we have tried to capture through the use of positive messages presented in a graffiti style.
- Do
The internet can be brutal place, hence any kind of #kindcomments/ messages - even if it changes someones mood or makes them feel better about themselves can go a long way in creating an accepting world. Through our mural we're trying to send a message to the world - of being kind and compassionate; so lets just be kind. Our artwork also has a heart symbol which is a universal symbol of love and that's the kind of the positive imagery and messaging that we wanted to bring out with our mural.
- Khatra